Understanding Bike Trainer Tech
What you need to know about indoor cycling trainer tech
The basic concept behind bike trainers is easy to understand: it's a device that you attach to a bike so you can ride indoors in a stationary manner. They are deceptively simple from afar, but when you take a closer look you realize there's a lot to learn. Thankfully, by the end of this article you'll know esoteric facts like the difference between magnetic and fluid resistance, the benefits of ANT+ FE-C support, and a lot more.
Indoor cycling trainer types
It's important to understand the difference between "wheel-on" and "direct drive" trainers. As the name implies, wheel-on trainers physically attach to the rear wheel of your bike. With a direct-drive trainer, you must remove the rear wheel and then attach your bike frame to the trainer.

The advantage of wheel-on trainers are that they're more affordable and they weigh less, so they're easier to transport. Direct-drive trainers are more expensive but offer many advantages. They're less noisy when in use. They have a more realistic riding feel, meaning when you stop pedaling they provide a simulated feeling of inertia, whereas a wheel-on trainer will slow down much more quickly. Direct-drive trainers don't cause any wear-and-tear on your rear wheel, whereas wheel-on trainers do. Direct-drive trainers also require much less calibration, whereas wheel-on trainers must be calibrated before each workout.
Whether you ultimately get a wheel-on or direct-drive trainer, it's important to track the usage of your equipment. Indoor cycling typically mixes gear that you use outdoors with items that you only use indoors. Keeping accurate records of how much your equipment has been used can help you avoid mechanical problems in future training rides and races. SportTracks offers incredibly robust yet easy-to-use gear-tracking tools, and you can learn the specifics of indoor cycling gear tracking in our Pain Cave Gear Tracking post.
Types of indoor bike trainer resistance
The purpose of indoor bike trainers is to simulate outdoor riding and to get a workout, but these things only happen if you add some resistance to the cranks. Trainers handle this in the following ways: 
Fluid - As we pointed out in our Best Budget Bike Trainers guide, the best entry-level wheel-on trainers all have fluid resistance. These trainers feature a fluid-filled container. When you push the pedals, a flat-bladed propellor spins in the container. The faster you go, the more resistance is created.  
Magnetic - You guessed it! Magnetic forces are the source of resistance with this type of trainer. More specifically, a flywheel (a weighted disc that uses momentum to maintain velocity) passes through a magnetic field. Resistance can be raised or lowered with a manual control.
Air - These are similar to fluid-resistance trainers. When you turn the pedals, a fan moves in a chamber, and air causes the resistance. Again, the faster you turn the pedals, the more resistance will be created.
Rollers - Rollers are an older type of indoor trainer that are still in use today. They are more simplistic metal frames with a set of rolling drums that you must skillfully balance your bike upon. Resistance only comes from the weight of your body and bike, and the gears you chose. There are a couple of "smart roller" trainers available that add resistance, but they are uncommon.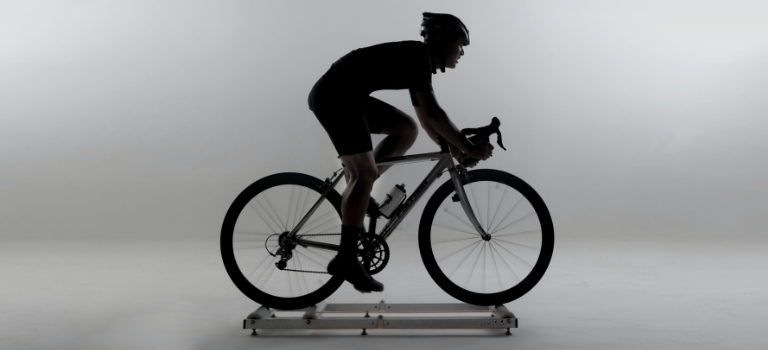 Air, fluid, and magnetic resistance are used in different kinds of wheel-on trainers, whereas direct-drive trainers typically have a heavy flywheel with electronically controlled magnetic resistance. How resistance is applied is what separates classic trainers from smart trainers. Classic trainers don't have electronics, whereas smart trainers wirelessly provide control of cycling power, and they simulate the resistance of hills. Instructions for this control comes from apps, bike computers, sports watches, and virtual cycling platforms. 
Smart Trainer Technology
There are several wireless protocols that facilitate a two-way communication between smart trainers and other devices, such as bike computers, mobile cycling apps, sports watches and more. This is how the smart trainer gets control instructions, like how much resistance to apply. It's also how the smart trainer sends your fitness data (such as speed, cadence, and power) to the other device to record the workout. It's important to know which wireless protocols your trainer supports. Familiarize yourself with the protocols below and you will have the required knowledge.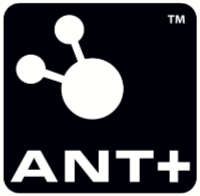 ANT+ - This is a wireless communication protocol that was developed with the specific needs of sports and fitness in mind. Think of it as being similar to Bluetooth, but found almost exclusively on fitness gadgets. It's extremely beneficial when your smart trainer supports ANT+ because it means it will be compatible with a wider range of external fitness sensors and devices. Ideally, you want your trainer to broadcast power, speed, and cadence via ANT+ so it can be received by bike computers, watches, apps, and computers.

Bluetooth Smart - Bluetooth is one of the most famous wireless protocols on the planet, but what isn't as well known is that it's named after a Danish king who died over 1000 years ago. Make sure the smart trainer you're interested in supports the broadcasting of fitness metrics via Bluetooth Smart, and if it can control smart trainers with Bluetooth FTMS, that's a nice bonus. Like ANT+, your trainer should broadcast power, speed, and cadence via Bluetooth Smart. The best smart trainers broadcast Bluetooth Smart and ANT+ concurrently.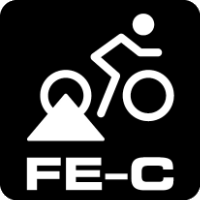 FE-C - This protocol is commonly referred to as "ANT+ FE-C" and it focuses on the task of controlling smart trainers. If you create a custom bike trainer workout with SportTracks and load it into your bike computer or watch, you can execute the workout on a trainer that supports ANT+ FE-C. This protocol is included in many bike trainers, but not all of them. FE-C support is important to have, so definitely make sure the trainer you're interested in has it.  
Indoor Bike Trainer Fitness Data
Power - This is one of the most important training and racing metrics in cycling. It's a measurement of the strain you apply to the bike when you pedal, and it's used to measure how much energy you're exerting. To get power on a regular bike you need to install an expensive power meter. The majority of smart trainers have simulated power meters built in. It's important that the trainer's power data is accurate, and that it broadcasts power via ANT+ and Bluetooth Smart.
Maximum Incline - This is the uphill gradient percentage that a bike trainer can simulate. In general, the more advanced (and expensive) the trainer is, the higher the incline it can simulate. Separate from cycling power, simulated incline requires a braking force that can add a realistic-feeling climbing resistance at low speeds. 
Cadence - This is the number of times you rotate the pedals in a minute, and it's an important fitness metric. Many bike trainers have cadence built in, but not all. External cadence sensors can be added to your bike to get this data. If you can't afford a smart trainer but you want to train with platforms like Zwift, TrainerRoad, and the Peloton app, you can do so with an inexpensive classic trainer and a cadence sensor. Learn more about the benefits of training with cadence in our What Is Good Cycling Cadence post.
Speed - Speed is self explanatory, but what isn't obvious is that smart trainers often include speed data on the same ANT+ or Bluetooth channel with power. It's always interesting to know how fast you went, but metrics like power, cadence, and heart-rate are more commonly used for structured, specified training. Speaking of heart-rate, bike trainers themselves don't have sensors to capture this data. It's common to wear a separate heart-rate monitor, and to send its data via ANT+ or Bluetooth to the device you're recording the workout on.  
What can you do with smart-trainer fitness data?
It doesn't take too many indoor rides to start accumulating lots of fitness data, which is great because it tells the valuable story of how your performance is progressing. SportTracks calculates unique fitness metrics like Aerobic Efficiency and lets you easily see it in a chronological list with ride data like %FTP and VAM. At a glance you can see if your performance is improving, and what workouts are making the biggest impact. 
Thanks for checking out this article! Be sure to check out our other posts about indoor cycling!
Article written by Sam Mallery, Director of Marketing, Zone Five Software Inc.