Editing Your Workout Data
Take control of your data with 3 powerful features
One of our guiding principles at SportTracks is that users should be able to control their data. A big part of controlling your data is allowing you to edit it. It seems so simple, right? Yet amazingly, it's a feature that several popular websites don't offer, or only offer in very limited ways. In this post, I'm going to outline three ways you can edit your data to take control and structure it the way you want.
Why should you care about data editing?
As I mentioned above, several [popular] fitness websites don't offer data editing, so you might be wondering: Why should I care? There are two primary scenarios you need to think about:
Annotating the data created by your watch gives you a richer fitness history.  This means better analysis, better planning, better performance, and generally more enjoyment out of the app as you review past workouts. You're here to track your workout data, right? Make sure you get the complete picture.
Correcting data when your watch goes bonkers. If you're using fitness tech, sooner or later you're going to hit a glitch in GPS recording, or your HRM battery is going to die. Or you're going to stop for a beer and forget to start your watch (admit it, you've done it too). If you can't edit your data to reflect what really happened, there isn't much point in using a fitness tracking website.
Let's jump into the three ways you can edit your data, starting with direct "quick-edit" from the workout detail view.
One: Workout Detail Quick Edit
If you're looking at your workout detail, you've got a lot of options to directly edit the data right there in place without going to another page:
1. Sport. Click the sport icon to select a new sport, or categorize further into sub-sports for detailed analysis. Typically, your watch will only know about a top level sport: running, cycling, etc. Now is a great time to add detail about the particular sub-sport: trail running, indoor trainer cycling, etc.
2. Name. The workout name will usually prefill from the sport type. If you'd like to track a name for specific events or courses, click the name to enter it. We'll even auto-suggest similar names from your history to save you some typing.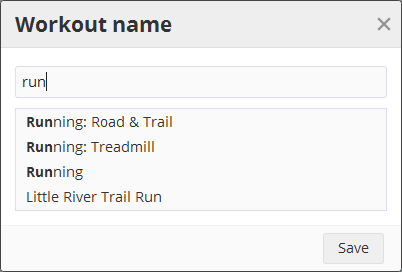 3. Privacy. Your privacy is important to us. Click the privacy option to make any workouts private, or to share publicly with friends that might not be users of SportTracks.
4. Location. Click the edit button beneath the workout name to select a location. Like the name field, we'll auto-suggest similar locations you've already entered. If you've recorded an outdoor workout with GPS data, we will also suggest a location name for the GPS location.

5. Notes. Click the edit button in the notes header to add or edit your workout notes.
6. Interval Rest/Active. If you've recorded a workout with laps and you've done interval training or included a warmup/cooldown, you can also toggle the Rest/Active status of your intervals. Some watches already record this, but if yours doesn't, it's easy to add this after the fact.
The quick-edit feature on the workout detail page gives you most of what you need for annotating your data, without the bother of going to separate edit screens. And the auto-suggest features mean you don't need to worry about spelling mistakes or data inconsistencies. If you need to correct data that's been recorded, you'll want to use the full edit feature.
Two: Edit Workout
To edit data metrics beyond simple descriptive fields, such as distance, time, calories, elevation, or heart rate, etc., click the "Edit" button on the workout detail which will bring you to the full edit page.
In this page you've got full control over your summary metrics. You'll see your pace automatically calculated from your time and distance, and a calculator button can calculate your calories burned based on your weight, the sport you performed, and the intensity or speed.

You'll find the same auto-suggest options here for the name and location fields, and the address lookup based on the GPS start location along with a mini-map.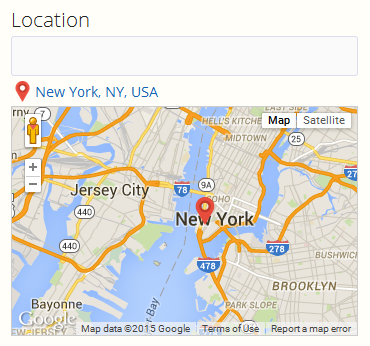 When you change sport type, the distance and pace/speed options change to your particular sport. If you want to enter distance in a different unit, it's as easy as clicking the units button.
Three: Bulk Edit
If you're coming from another system and loading your history of hundreds or even thousands of workouts, the prospect of editing every workout... One. At. A. Time. probably makes your head hurt. Luckily we've also provided a bulk edit feature in the Workouts view that lets you edit the summary information en-masse.
With the bulk edit feature, you can go back to past years data and quickly add descriptive information to your workouts. You can also reassign your workout privacy to a bunch of workouts at once. Or add or replace the gear you used. Or add the same note to a pile of workouts. Or recategorize them as sub-sports. And more. It's simply awesome.
From the Workouts view click the "Select" button to enable the multi-row selection. Select the rows you want to edit (tip: On a computer, hold down the SHIFT key and click to select a range).
Click the "Edit" button. On the summary screen you'll see options to overwrite sport, name, location or privacy.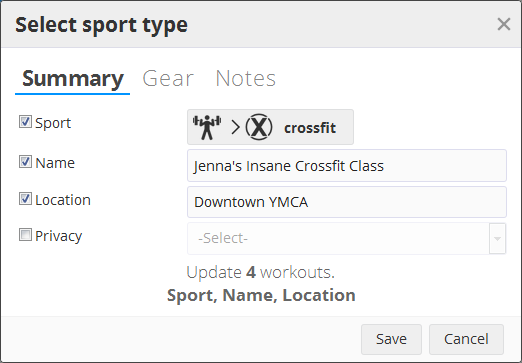 You can also add or replace either gear or notes. When you've made your selections click "Save".
And... We Made Sport Selection Easier Too
If you tried out the new editing features you may have also noticed we updated our sport chooser. Now you can pick a sport or sub-sport with a single button click. Opening the sport selector shows the top level sports, so for example, you can quickly pick a gym workout...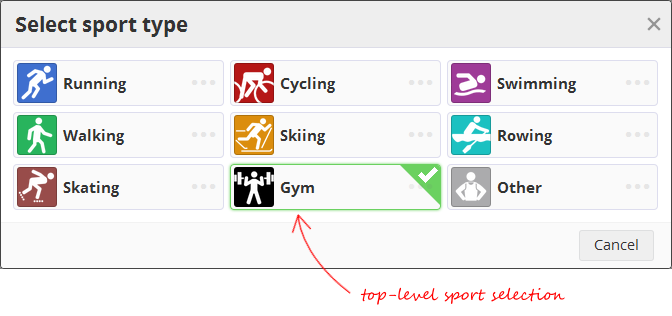 ...or if you want to pick a sub-sport, click the ellipsis which appears by each sport to get a list of sub-sports: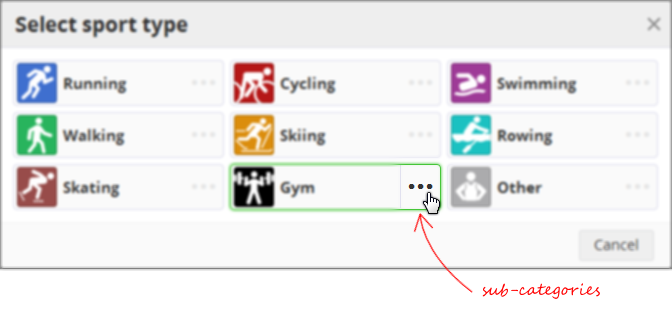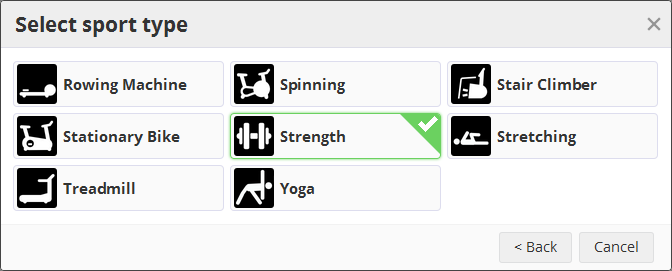 And mobile users will be thrilled to know we optimized this for phone layout. No more scrolling around...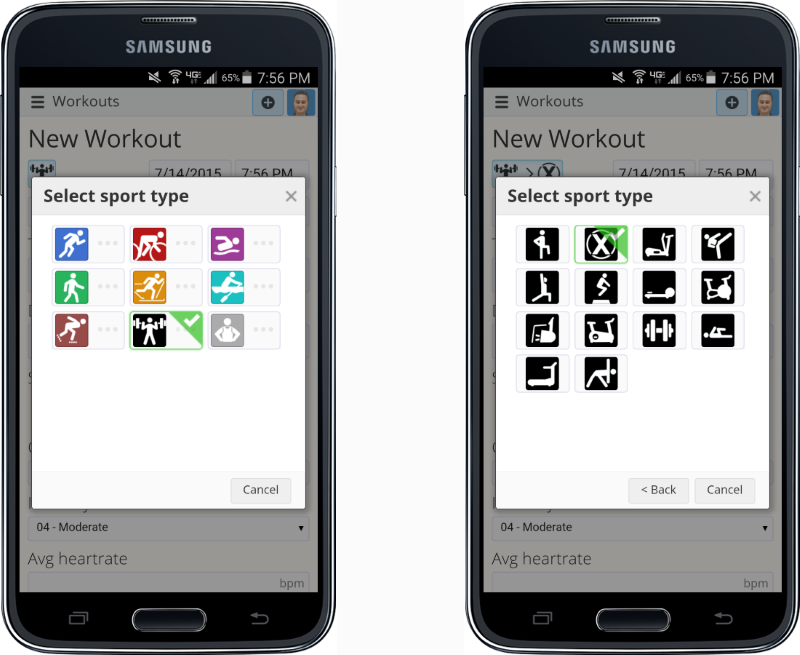 Bonus "pro-tip"...
I'm going to give those of you that actually read this far in the post a bonus "pro tip". If you're on a laptop and in a hurry you can use the ENTER key on your keyboard to submit both the full Edit page, and the Name and Location quick-edit dialogs.
~Enjoy