Connecting with Epson
How to sync your Epson Runsense watch with SportTracks
Today we announce another sync integration partner: Epson Runsense
Epson is one of a few brands that now support optical heart rate - your heart rate is measured right from your wrist. This means no more heart rate strap, no batteries to change, no uncomfortable chafing and no forgetting to put it on!
While other brands such as the Forerunner 225 now also offer optical heart rate, we like the Epson for a few reasons:
20 hours of battery life - nearly double the FR225
Barometric elevation sensor
"Hands off" sync with SportTracks
And now... a quote from DC Rainmaker - tech gadget enthusiast...
When I first met with Epson last summer, they were rather proud of their GPS accuracy – almost taunting me to find issues with it... But they have reason to be proud, they've done fantastically well there. It is as good or better than any unit I've seen in the various conditions I've run in (cities, forests, deserts)... Over and over again it proves itself. Even when other watches were 'good', the SF-810 tended to be just a little bit better.
Great GPS, an optical HRM, and a reasonable price. What's not to like?
Configuration
1. Click the My Account link in the upper right corner of the app and navigate to the Sharing page.
2. Click the Connect button.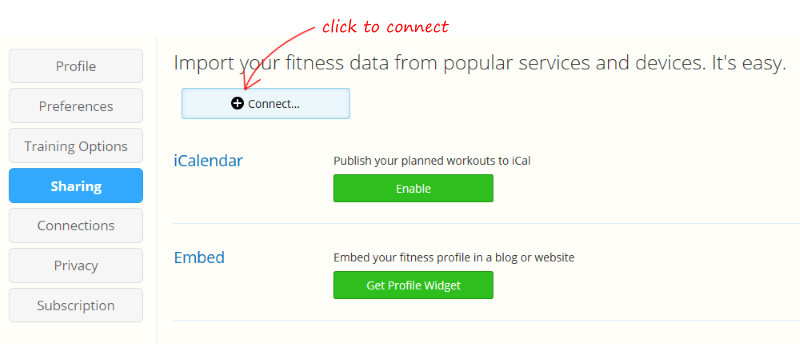 3. Select the Epson Runsense option.

4. Log into the Runsense website and authorize SportTracks to talk to your data.
5. Click Finish.
Once authorized, all you need to do is plug your watch in as you would normally do to import to Runsense through the Run Connect agent. SportTracks will check Runsense every 10 minutes for new workouts that you've uploaded from your watch and integrate them into your history.
You can check the status of the sync connection by going to the Sharing page under My Account:

Using Epson with SportTracks gives you the best of both words - a watch with convenient strapless heart rate monitoring, and the advanced tracking, analysis and planning features you demand.
~Enjoy