Foot Strike and Shoe Choice
How running shoe design benefits different body mechanics
Foot strike: it's where the rubber meets the road in running, and the mechanics of how your feet interact with the ground can help determine which type of running shoe will best suit your needs. In this post, we take a close look at the intricacies of foot striking in running, and how it relates to running shoe design and choice.
There are two "macro-categories" of running shoes: neutral and control. Neutral shoes have a foam midsole that's the same density throughout. They're flexible through the arch and are best suited for runners and walkers who "supinate", which means they distribute their weight mostly on the outside of their feet and ankles as they move through the gait cycle. People who have neutral pronation typically maintain and even footfall.
Control shoes feature denser material on the inside to add rigidity through the arch. This is how control shoes off-set for overpronation, which is the tendency to roll excessively to the inside as one moves through the running and walking gait cycle.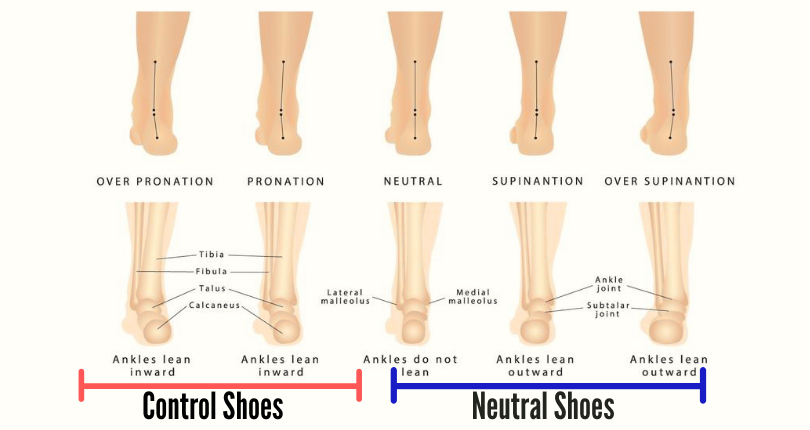 Your ideal running shoe should help you achieve neutral running mechanics. For some of us, this is our natural tendency, while others are naturally inclined to overpronate. Visit your local running specialty store for a fit process to identify your gait type and the category of shoe that's right for you!
What are conventional trainers?
Definition: A cushioned everyday running shoe that utilizes a midsole stack height of 32 to 28 mm in the heel and 22 to 18 mm in the forefoot, and an 8 to 12 mm heel-to-toe offset.
What does this mean? Shoes in this category use a higher heel-to-toe offset, which serves to cushion heel striking, and shorten the achilles tendon, thus off-loading and reducing stress on activation of the calves, the achilles tendon itself, plantar fascia, and more. This type of shoe allows for a heel strike by cushioning impact for the structure of the rearfoot and lower leg.
Who would a fit specialist recommend this type of shoe for? Runners and walkers who are definitive heel-strikers. They are for runners and walkers who have calf pain and tightness, those with achilles tendonitis, plantar fasciitis, or other issues with tension and inflammation of the rearfoot or lower leg. They're also good for people that are new to the impact of regular running and walking.
Other things to note: There are plenty of neutral shoe options in the conventional trainer category, and this is where nearly all options we would label as control shoes reside. Some popular models in this category include:
Neutral: Brooks Ghost, Saucony Ride, New Balance 880, Mizuno Wave Rider, Asics Gel Cumulus
Control: Brooks Ravenna, Brooks Adrenaline, Saucony Guide, Saucony Omni, New Balance 860, Mizuno Wave Inspire, Asics GT 2000
What are low-drop trainers?
Definition: An everyday running shoe that utilizes a midsole stack height lower than that of a conventional trainer and a 0 to 6 mm heel-to-toe offset.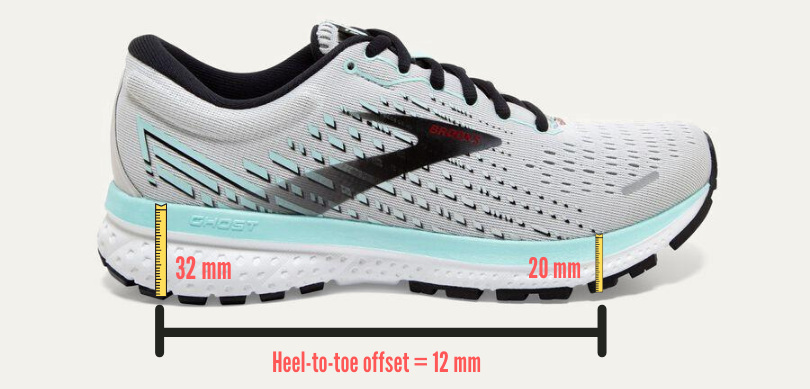 What does this mean? A shoe with a lower heel-to-toe offset encourages and facilitates a midfoot or forefoot strike by keeping the foot in more level position in the absence of extra midsole underneath the heel. Low drop shoes are available with varying levels of cushioning, and it is true that those with less cushioning, or a lower midsole stacking height will emphasize a midfoot or forefoot landing more so than those with more cushioning.
Who would a fit specialist recommend this type of shoe for? Runners who are naturally definitive midfoot or forefoot strikers. Since these athletes aren't experiencing a lot of heel contact with the ground anyway, they may not really need or benefit from the additional heel cushioning that comes with a shoe with a higher drop. Trail runners are often partial to lower drop footwear as well, as uneven technical terrain tends to keep them on their toes (literally!) most of the time. Low-drop shoes are also popular for cross-training activities such as weightlifting and boot camp because they offer a more level, balanced stance for lifting activities than something with a higher ramp. Furthermore, low-drop shoes with less cushioning tend to be more flexible, allowing for lateral movements that are often part of group exercise or athletic conditioning classes.
Other things to note: Most lightweight, low-drop shoes are neutral. Some runners and researchers might say that this type of footwear addresses mechanical inefficiencies of the gait by recruiting and strengthening small stabilization muscles of the foot and leg rather than building corrective mechanisms into the shoe, as a control shoe would. If you're intrigued by low-drop shoes, by all means, check them out. However, if you have historically run in a conventional trainer it is recommended to gradually integrate low-drop shoes into your training routine. Remember that running in this type of shoe may activate or place more load on your calves, so some initial tension or soreness is a normal adaptation. You can keep calf discomfort to a minimum by slowly transitioning to running most of your miles in your low-drop shoes.
Some brands that make low drop footwear include Altra, Hoka One One, Topo, and On.
What type of heel-to-toe offset is right for me?
Currently, there is no substantial scientific evidence that supports any specific heel-to-toe offset as ideal. There are many different types of feet and gait mechanics out there, and different things work for different people. My advice is to prioritize comfort over any technical specifications as you shop for your next pair of running shoes.
No matter what kind of shoe you decide to use, definitely track their usage. The more miles you put on your trainers, the more the foam and other materials will breakdown, lose effectiveness, become a potential hazard, and impede your performance. SportTracks offers robust tools for tracking gear, such as automatically including gear with sport types, grouping gear (track your footpod and shoes automatically), bulk editing, and much more.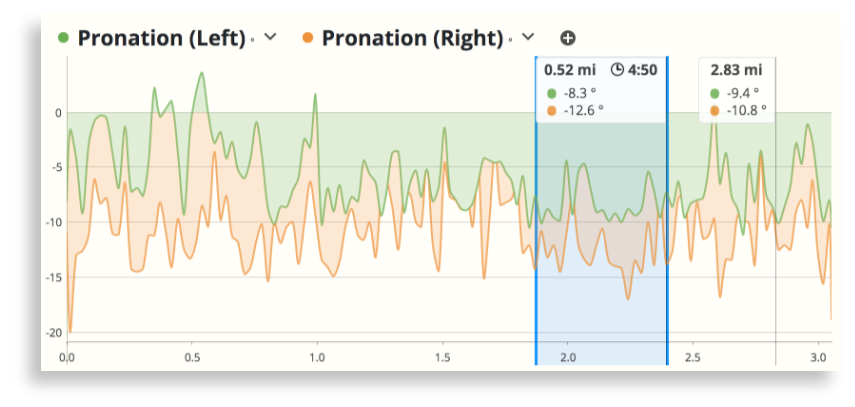 If you want more insight on your gait and foot striking mechanics, SportTracks is compatible with Runscribe footpods. These devices attach to your running shoes and provide a rich array of running efficiency metrics. In addition to all of the standard running data you get, like Pace, Level Pace, Stride Length, Elevation and more, workouts with Runscribe data in SportTracks allow you to analyze the following metrics:
Braking Force (Left)
Braking Force (Right)
Foot Strike (Left)
Foot Strike (Right)
Ground Contact TIme (Left)
Ground Contact Time (Right)
Impact Force (Left)
Impact Force (Right)
Pronation (Left)
Pronation (Right)
Thanks for reading this post! If you have any questions about foot striking and shoe choice, please share them in the Comments below!
Article written by Ellen Moss, Social Media Manager, Zone Five Software Inc.