How to Fix Garmin Auto-Sync
Re-connect your Garmin device to auto-upload workouts
Auto-sync is the fastest way to get your workout data into SportTracks if you use a Garmin device. But, as you may know, technology can be a little finicky. Little problems can arise that break the connection between Garmin and SportTracks. This article explains how to make these problems go away.
1) Check your workflow
If you're having trouble, make sure you're following the proper sync procedure. You may be missing a step!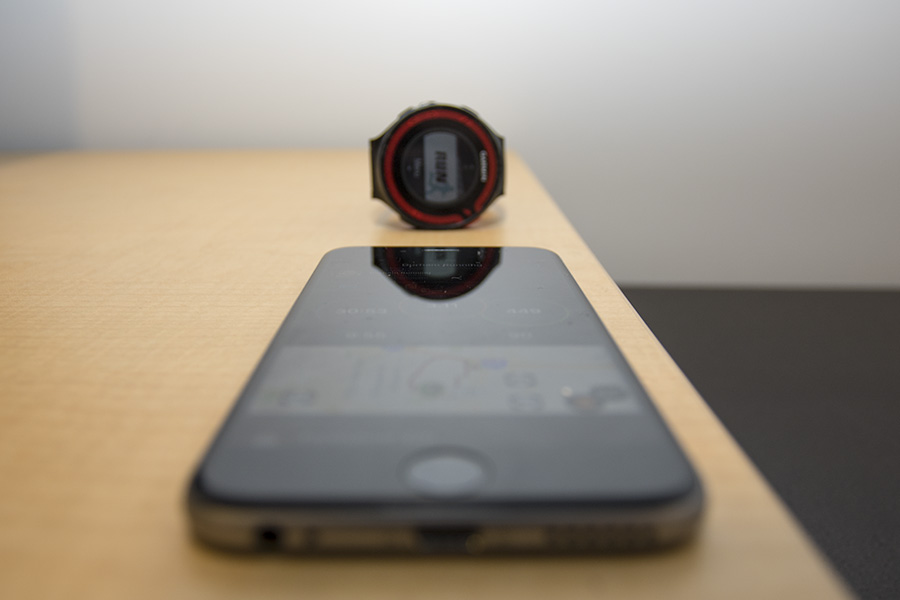 You need to link SportTracks to your Garmin Connect account in order for auto-sync to work (set up explained in this post). After you finish a workout, you need to get the file off of your device and onto the Garmin Connect website. The easiest way to accomplish this is with a smartphone or a tablet.
This is how to do it:
Turn on Bluetooth on your mobile device.
Wait for your Garmin to pair with your mobile device (your Garmin will notify you when it's paired).
Launch the Garmin Connect app on your mobile device.
At this point, the mobile app will pull the workout file from your Garmin device and upload it to the Garmin Connect website (this may take a minute or two). The moment your workout is uploaded to the Garmin Connect website, auto-sync will send it to SportTracks.
You need to follow these steps every time you sync files from your Garmin to SportTracks (which, let's face it, should be every activity :). If you correctly follow this procedure and auto-sync fails to work, it's best to remove the connection between your accounts, and then re-link them.
2) Clean your slate
This is how you remove the link to Garmin Connect in SportTracks:
In your SportTracks account, select "My account" from the drop-down menu in the top right of the screen.
Select the "Sharing" button from the vertical menu on the left side of the next screen.
Lastly, click the "Remove" button beside Garmin Connect.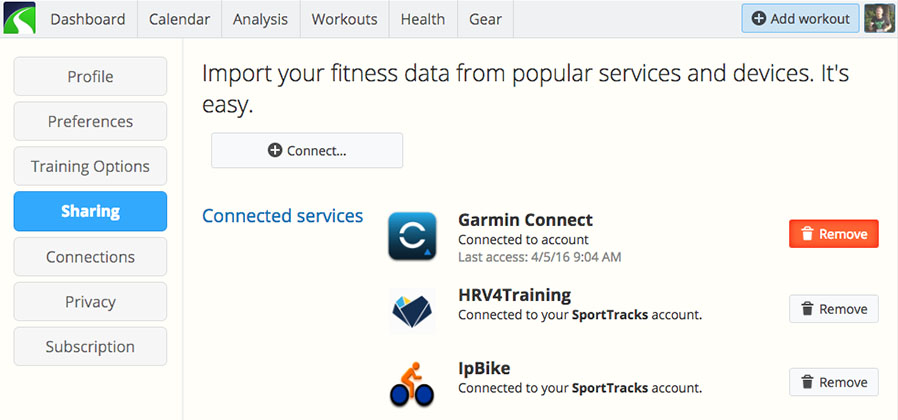 Now that SportTracks is un-linked, you should remove the link in your Garmin Connect account as well. To do so, you need to visit the "Applications" section of the Garmin Connect website, and click "Remove Permission" for SportTracks. This is where you can locate the Applications section in Garmin Connect:
Visit the Garmin Connect website and log in
Click your profile icon in the top right of the screen
Click Account Settings
Click Account Information
Scroll to the bottom of that screen, you should see the Applications section there 
If you see more than one link to SportTracks in your Garmin Connect account, be sure to click "Remove Permission" for each one of them, until they're all gone.
3) Reunite your accounts
After you remove the SportTracks connection from your Garmin Connect account, you can go back into the Sharing section of SportTracks and reestablish the connection with Garmin Connect.
Once you've done this, do a test workout with your Garmin device (a short walk around the block is sufficient). Follow the instructions in the "Check your workflow" section above to get this test workout off of your Garmin and into the Garmin Connect website. Lastly, look for this workout in your SportTracks Dashboard to see if auto-sync is working properly.
If you have any questions at all, please post them in the Comments below. Thanks!
Article written by Sam Mallery, Director of Marketing, Zone Five Software Inc.