Running Power Options
The differences between Stryd, Garmin, RunScribe, and Polar
There are several running power meter solutions available from big names like Garmin and Polar, as well as smaller startups, and it's likely not clear which one is the best option for you. We put together this post to help you make the best choice for your needs in this newfangled buying process. We continually update this post when new information is available. The most recent update was on February 26th, 2019.
Why should you run with power?
Many athletes and coaches have found power to be more effective than pace or heart rate data in training and racing, especially when running uphill. Think of it as new way to measure effort that isn't influenced by terrain, diet, and other factors that are a part of every run. We have a separate article called Running with a Power Meter that clearly explains the benefits of utilizing this cutting-edge metric.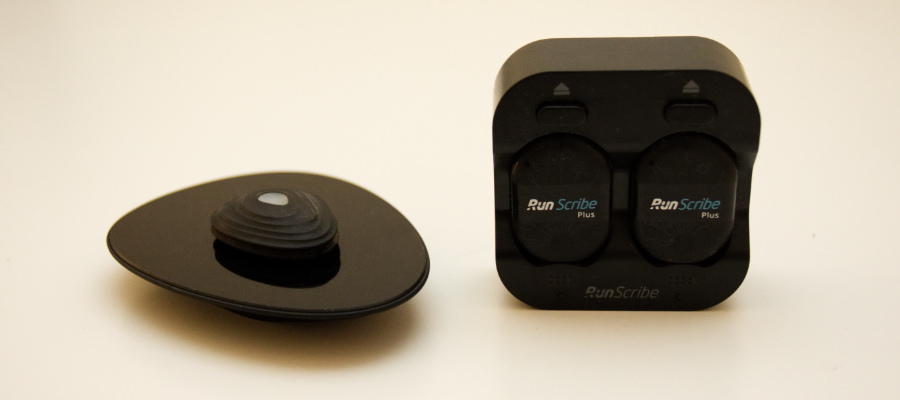 The big caveat: validating data
Power meters in cycling all share the same baseline for measurement. A cyclist cranking out 300 watts of power should see nearly the same number whether they're using a high-end or entry level power meter. This is not the case with running power meters. The wattage numbers you get with Stryd, Garmin Running Power, RunScribe, and Polar are all dramatically different.
This is such a persistent issue in running power that even data from the first-generation Stryd chest strap device and their current footpod is inconsistent. Not being able to validate running power data between various devices is deal breaker for some runners. It's impossible to compare the accuracy of different running power meters with one another, and if you switch to a different kind of running power meter, it creates a device-specific shift in your workout history data that complicates longview analysis.
The smaller caveat: compatibility
As it stands today, you can't simply purchase any GPS watch and assume it will be compatible with the running power meter of your choice. The landscape isn't as confusing as bike power meters, where you often need to concern yourself with ghoulish details like bottom bracket sizes, crank arm clearances, cleat types, and so on. But you do need to make sure your running tech is compatible before you take the power meter plunge.
I'm in. What are my options?
If you're willing to put up with the less-than-ideal aspects of running with power in order to capitalize on the competitive edge it can provide, your next move is to check out the available options. This article focuses on Garmin, Stryd, RunScribe, and Polar, all of which are easily accesable and integrated with sports watches for real-time monitoring. Plus, they're all fully compatible with SportTracks.
There are a few other running power meters available, such as SHFT, RPM2, and FeetMe Sport. These options either require you to run with a smartphone, or they're in the early stages of integrating with running watches. This entire product category is just getting started. It's an exciting space to watch, and we'll keep you updated as it evolves. 
Garmin Running Power

Garmin released their running power solution in late 2017, and the first thing you need to know is that it's only compatible with the following watches: the Fenix 5 and Fenix 5 Plus series, the Forerunner 935, the Forerunner 645, and the Chronos. In addition to having a compatible watch, you also need either the Garmin HRM-TRI or HRM-RUN chest straps, or the Garmin RD Pod clip-on sensor. If you can check all of those boxes, you can download and use the free Running Power apps from Connect IQ.
An obvious advantage of Garmin's solution is that you don't need to purchase a third-party hardware sensor to start running with power. A less obvious advantage is that Garmin's Running Power app is the only solution that compensates for wind. The app uses location-based weather data to calculate the impact of wind on your running power numbers. It's not as localized as having a twirling anemometer mounted to your head, but it's better than nothing (which is what the other running power options currently provide).
Pros:
Third-party hardware not required
Compensates for wind
Cons:
Requires a recent high-end Garmin watch that has a barometric altimeter
You need to run with an additional Garmin chest strap or pod sensor
Stryd

Stryd is a hardware footpod that you attach to the laces of a running shoe. As you run it measures your running power (and a wealth of other running data), and transmits this data to either your watch or the Stryd app on your phone via ANT. One of the great things about Styrd is the sizable number of watches it's compatible with: over 20 different models from Garmin, a bunch of Suunto watches, the Polar M400, M430, and the V800 (which supports power natively). There's even a dedicated Stryd app for Series 2, 3 and 4 Apple Watches.
There is a Connect IQ app and data field made by Stryd for Garmin watches, but there are other CIQ apps that utilize Stryd. For example, an app called Datarun Premium displays your running power and lap power side by side (along with other run data). What's interesting is that as the watches get more advanced, they permit developers to do more for their apps. The latest premium Garmin watches have upped the available memory from 32kb to 128kb, and new functionality will be added to apps like Datarun to take full advantage of it.
Pros:
Extremely accurate pace and distance metrics

Compatible with a wide range of watches
Cons:
At $200 USD it's an expensive single footpod

Requires a short pairing process at the beginning of each run 
RunScribe

RunScribe Plus is running sensor system comprised of two footpods; one for each of your feet. They provide running power, but with RunScribe it's still in beta, which means you can access it but it's still being tested and worked on. On the positive side, you get a boatload running efficiency metrics that all display beautifuly on your SportTracks Workout Detail pages, such as Braking Force, Foot Strike, Ground Contact Time, Impact Force, and Pronation. There are individual graphs of each of these metrics for both your right and left feet. 
The data collected by the footpods is compared to the community as a whole, so you can judge how your efficiency, footstrikes, and pronation compare to the average range of every RunScribe user. There are dedicated Connect IQ apps available for RunScribe on Garmin, and it's compatible with Suunto Ambit and Spartan watches as well. Unfortunately, a big downside with RunScribe is the price. In the recent past the dual footpod system was priced at $250 USD, but the company decided to focus on B2B markets, and part of their strategy change was to raise the price to $399 USD.
Pros:
Provides detailed information about your running mechanics
Footpods can be clipped to the laces or heels of your running shoes
Cons:
Running power is still in beta
Prohibitively expensive compared to the other options 
Polar

Six weeks after this article was originally published, Polar announced their long-awaited flagship multisport watch, the Vantage V. While it featured outstanding battery life, a no-compromises 9-LED optical heart rate monitor, and new exertion and recovery feedback, one of its most impressive attributes was its built-in running power meter. It's the first run-power solution that doesn't require any external sensors; it tracks your power on every run automatically without any extra fuss.  
Because running power is native to the Vantage V, the data is fully supported in the sport profile, so as you're training or racing you get more actionable feedback from the watch. You can customize the watchface to display Power, Max Power, Lap Power Max, Automatic Lap Power Max, Average Power, Lap Power, and Automatic Lap Power Average. Polar devices are fully compatible with SportTracks, and when you have our auto-sync integration enabled your workouts and run-power data are automatically uploaded and ready for analysis. 
Pros:
Running power meter is built into the watch, no external senors are required
Many different metrics of run power data can be viewed on the watch while running 
Cons:
Does not track additional running efficiency metrics like vertical oscillation
Polar's running power meter requires GPS, so it does not work indoors on the treadmill   
Wrap up...
As you can see, the present number of options for running power meters isn't extensive, and like cycling power meters, there isn't an extremely affordable way to get into it. But if you focus too much on the downsides of running power, you risk missing out on a new technology that could potentially help you improve your performance. If you've been watching run power evolve and waiting for the right time to jump in, we think the options available today are worth trying out.
Products Mentioned in this Article