Swimming with a running watch
How to track swims with the Garmin Forerunner 230, 235, or 630
The ability to accurately track swims used to require a dedicated swimming watch, or a more advanced (and more expensive) multi-sport watch. Recently, a free Connect IQ app called Pool Swim made it possible to track pool workouts with a Garmin 230, 235, or 630 — all mid-level running watches that lack built-in swim tracking features.
In case you're not familiar, Garmin has an app ecosystem called Connect IQ, which enables you to download specific apps to suit your needs. For example, an app called Workout Builder enables you to wirelessly send custom, structured workouts that you create in your SportTracks calendar to your Garmin watch. If you want to start tracking swimming workouts, Pool Swim is the answer.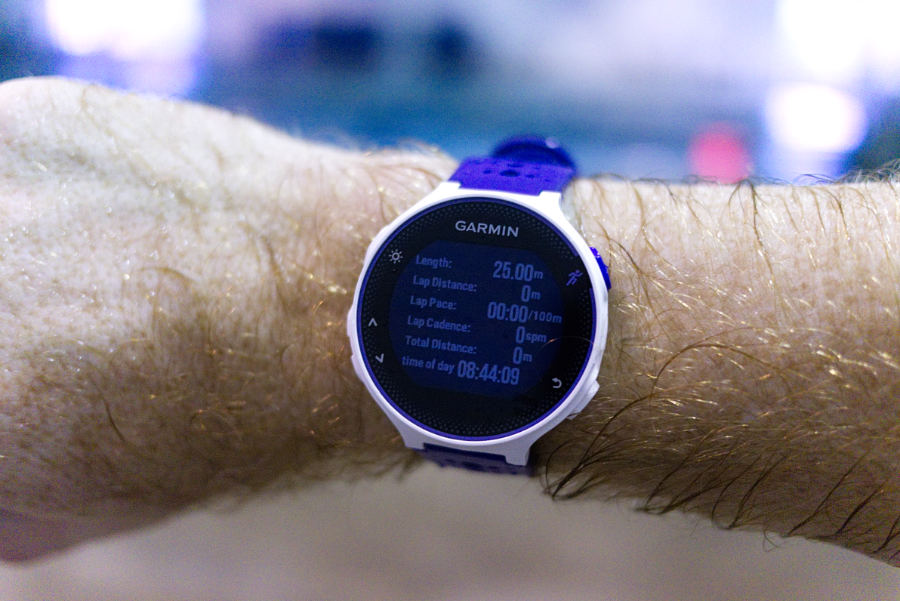 Like all Connect IQ apps, Pool Swim is available as a free download. You can only use it with the Forerunner 230, 235, and 630 because they have access to Connect IQ (many older Garmin watches don't have access), and they lack native swim tracking capabilities.
Using the app
Pool Swim is impressively versatile. After you launch it, if you hold the Up button on your watch for three seconds, you enter a Settings mode. Here you can adjust the length of the pool, turn on Autolap, and customize the data screens that are displayed when you're working out.
However, this app doesn't have access to all of the features of your watch. For example, it cannot display the Distance and Speed fields. These always remain at 0, even when you analyze your data afterward in Garmin Connect. This is a limitation Garmin imposes on Connect IQ apps. The good news is that if you bring your Pool Swim workouts into SportTracks, this data is displayed and is fully available for analysis.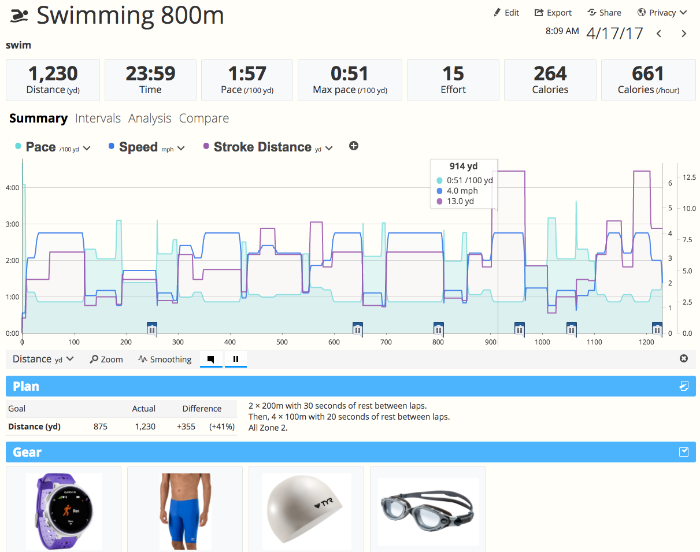 Another interesting feature of Pool Swim is that it utilizes heart rate data, which isn't common in swim tracking. If you use the Garmin 235, the app uses the built-in heart rate monitor on the watch. With the Forerunner 230 and 630, you can use the separately available Scosche Rhythm+, which straps to your arm (as opposed to your chest), and provides ANT+ and Bluetooth connectivity.
Getting the app
Downloading and installing Pool Swim is fairly painless. This is how it's done:
Plug your watch into a computer with its USB cable
Launch the Garmin Express program
Click on the watch in the program
Click the Manage Apps button
Click Get More Apps in the bottom right corner
Type the name Pool Swim into the search field
Click the Download button (you may need to sign into Garmin Connect at this point)
Press the Sync button in Garmin Express, and you're done!
Wrapping up
In a way, apps like Pool Swim are one of the best reasons to use Garmin devices. Even if you aren't an active swimmer when you purchase the watch, you can still track pool workouts later — thanks to the power of the Connect IQ app platform.
Would it be better to use a real swimming watch or a true multi-sport watch that tracked metrics like SWOLF, Stroke Rate, and Efficiency? Absolutely. But using Pool Swim provides you with a detailed record of your workout that's far more useful than swimming with a GPS watch in running mode.
The other day accidentally left my Garmin 230 at home, and didn't realize it until I was walking in the door at the gym. I proceeded to execute the swimming workout dictated by my training plan, and afterward I manually entered the details into SportTracks. This opened my eyes to how data-rich workouts tracked by Pool Swim are, compared with the other options I have at my disposal. If you're training in a pool with one of these watches, this app is a must have.
Article written by Sam Mallery, Director of Marketing, Zone Five Software Inc.