Performance vs. Distance
Should you aspire to go longer or faster?
A similar pattern often occurs when people get interested in endurance sports for the first time. They start out wondering if they have what it takes to complete a 5K, a sprint triathlon, a criterium, etc. When the initial goal is accomplished, they push harder by targeting a longer distance. The focus is the length of the course, not how competitively they are racing it.
By all means, we celebrate those who choose to race long distances at SportTracks, providing that health and safety are prioritized. Most serious athletes put great care into finding their ideal race distance, and sometimes ultra-endurance events are the best choice. But when you look at the racing community on the whole, distance seems like it's often prioritized over speed.
Why is it far less common to strive to improve performance in shorter races? An obvious answer is pain. Trying to outdo your best in high-speed efforts is profoundly uncomfortable. But there's also pressure to go longer that sometimes comes from outside forces, and sometimes within.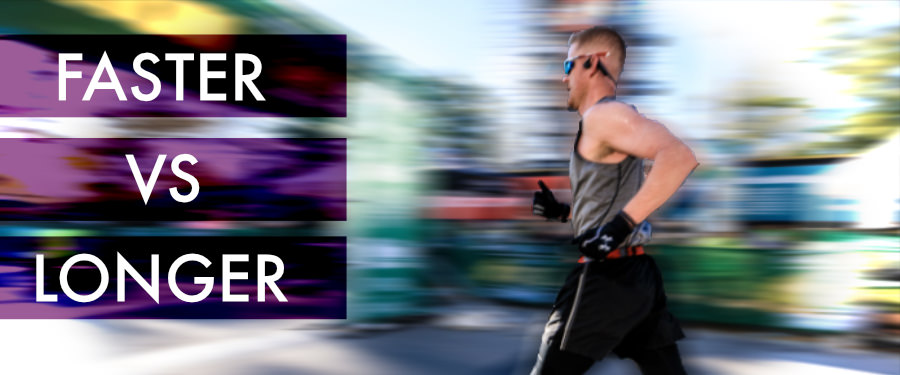 There's a sense that you'll never truly be a runner if you don't complete a marathon, or you're not a real triathlete until you do a full Ironman. Your family and friends won't fully appreciate the gravity of besting a middle-distance personal record, but they do react to long and demanding distances. Whether you race for yourself or others, distance seems to always win out over performance.
Shorter distance does not mean entry-level
It's understandable why people mistake shorter races like the 5K or sprint triathlon as entry-level events. You can show up at these races without months of training and still cross the finish line with a pulse. The same cannot be said about the marathon or full-course triathlon. If you compete in those events without preparation your suffering is guaranteed, and finishing is unlikely.
The reality is that shorter races are incredibly demanding if your goal is to be competitive — not just a body crossing a finish line. Consider the 50-meter freestyle in swimming, or the 100-meter sprint in track. Anyone can complete those distances, but to be competitive requires an unwavering level of focus and commitment. Bump it up to middle-distance endurance races like the 5K and sprint triathlon, and the discomfort required to be competitive increases exponentially.
"
A sprint means you need to completely throw down the hammer.
By definition, a sprint triathlon isn't a short race for beginners. A sprint means you need to completely throw down the hammer. It's an all-out effort from start to finish. There is no space to settle into a smooth pace, you've got to give it everything you've got the entire time. The same applies to 5K runs. Sure, you can always go at an easy pace and enjoy the social aspect of the event, but if the point is to be competitive, you've got to push yourself hard for the duration.
If you search the internet for the world's toughest races, you'll quickly find names like Marathon des Sables, The Barkley, and Tour de France. There's no doubt that ultra-distance races are grewling and deserve to be recognized as extremely difficult, but the hard work that's required to be competitive in middle-distance endurance races is far less appreciated. Just because it's overlooked by the general public doesn't mean you should ignore it yourself.
A cure for the post-race blues?
There's an implied sense of progression in endurance sports that seems inexorably tied to distance. Couch to 5K, 5K to 10K, 10K to half-marathon, and so on. You've got to walk before you can run, and once you can run should you keep going until you're competing in 200-mile ultras? At a certain point the all-important progression of distance loses its meaning.
Post-race depression is a real thing, and long distance events are often the culprit. Because it takes months of focus and commitment to train, the non-stop preparation dominates your life. When race day finally arrives and months of your hard work culminate, a sense of listlessness can set in. 
If your driving force had been to push further and further, what are you supposed to do once you've crossed that big finish line? This is when it can be healthy to have a different outlook on shorter races. Finding meaning and reward on shorter courses can stave away feelings of being lost afterward. Your training cycles won't be as lengthy and time consumptive, and your workouts can have more speedplay and dynamism. It's feasible to improve your ranking in your age group, and even strive for the podium. The sky's the limit when you're not bound to bigger and bigger miles.
Article written by Sam Mallery, Director of Marketing, Zone Five Software Inc.