2020 Year In Review
The most interesting trends in endurance sports tech in 2020
When the year gets close to the finish line, we like to look back at how our world of endurance sports is changing and evolving. Last year we noticed a growing interest in running power meters, and how the Nike VaporFly Next% were the darling of sports media yet the most popular running shoes among the SportTracks community were completely different.  
Now we've taken a look at how things have changed this year. You do not need to be told that 2020 was unusual. As you can imagine, things have shifted dramatically over the past 12 months. In some ways the numbers are shocking — but in a bigger way they show resilience and the utmost commitment to health and fitness. As always, privacy is a top priority at SportTracks. All of the data used to create this post was strictly anonymized.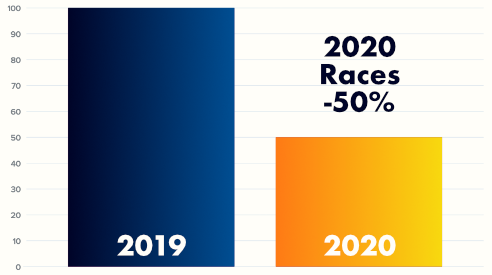 Number of Endurance Sports Races 2019 vs 2020
The number of races that the SportTracks community participated in during 2020 compared to 2019 decreased by a whopping 50%. While this is startling at first, when you factor in that the majority of in-person races were cancelled starting around March 15th and onward, it becomes clear that this percentage could be much larger. Just 75 days into 2020 the races were terminated, yet the number of people who committed to safely competing in virtual races and other socially distanced challenges proved to be strong.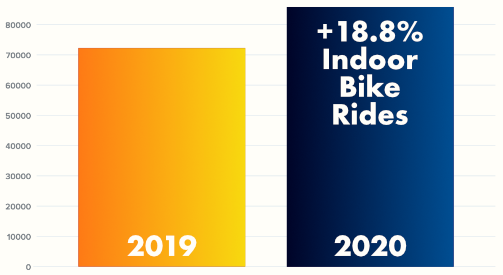 Number of Indoor Bike Workouts 2019 vs 2020
Indoor cycling has been gradually increasing in popularity over the years, but 2020 brought a sharp increase in the overall number of these types of workouts. This shouldn't come as a surprise. Fitness equipment that can be used at home was in hot demand from the beginning of the pandemic, and it continues to be a Furby-like sensation today. Indoor bike riding can deliver a fantastic cardio workout — if you were lucky enough to find a cycling smart trainer that was available to purchase.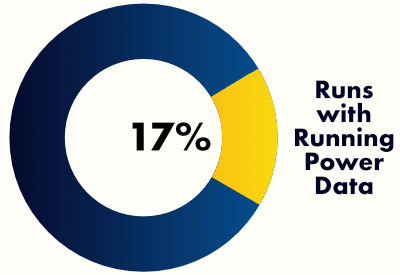 Running Power Meter Usage in 2020
In 2020, we witnessed a bit of a plateau in running power meter usage. It had grown around 4% per year in 2018 and 2019, while 2020 only brought an increase of 1%. Don't lose faith in this trailblazing metric, though. It was included on several new watches in 2020, the Stryd footpod with built-in wind detection is better than ever, and in a comment on his blog, Ray Maker recently hinted that Garmin may be adding running power to the native ANT+ and Bluetooth stack. The5krunner has also recently predicted that Garmin has big running power features in the works. This type of newfangled fitness data is still just getting started.
Most Popular Running Shoes of 2020
If you thought runners were stuck in their ways and always stayed loyal to the same shoe brands, this year's chart may make you rethink your position. We're happy to see that the advanced gear-tracking features in SportTracks are more popular than ever, and Asics should be happy as well, as they've held on to their #1 rank for the second year in a row by a healthy margin. The battle for second place was closely fought in 2020, with Saucony beating Nike by a nose. Last year Nike sat squarely in fourth place, and Hoka One One didn't even make it in the top five.
The Top 5 Running Shoe Models of 2020
Like last year, our list of the top 5 running shoe models doesn't perfectly match our list of the top five shoe brands. This is because our data isn't perfect. Not everyone enters in the specific model of their running shoes, which influences how we can rank them. But, in case you're curious, here are the most popular running shoe models with the anonymous data we do have.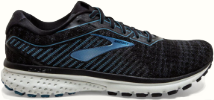 First Place: Last year this shoe landed in third place, but in 2020 the Brooks Ghost 12 narrowly beat the second-place contender. The Ghost 12 is a soft and comfortable road running shoe that's ideal for easy and mid-tempo long runs.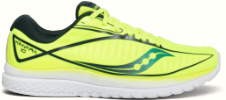 Second Place: The previous version of this shoe model was the most popular choice last year. The lightweight and neutral Saucony Kinvara 10 made a strong showing in 2020 as well. This shoe is a great choice for long and fast training runs and races.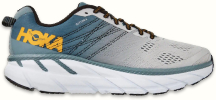 Third Place: Overly cushioned with an incredibly soft upper yet still retaining an overall lightweight feel, the Hoka One One Clifton 6 road running shoe was the third most popular model of 2020. It provides a comfortable run that eases some of the impact of the road.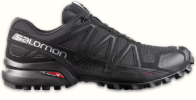 Fourth Place: The Salomon Speedcross 4 is the only trail-running shoe in the top 5. It's at home when running on loose ground, mud, and snow. The Speedcross 4 provides excellent traction when going uphill and down, and the fit gives you confidence even when wet.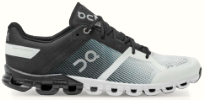 Fifth Place: On the other end of the spectrum, the On Cloudflow is very much not at home in the mud. This is strictly a road-running shoe. It's lightweight and ideal for fast runs and races. It doesn't like trails but it handles wet pavement well providing excellent traction.
Thanks for reading this post! If you want to learn more about the different types of running shoes available, check out our Foot Strike and Shoe Choice article.
Article written by Sam Mallery, Director of Marketing, Zone Five Software Inc.