SportTracks for Coaches
Our exciting new initiative: here's how to get started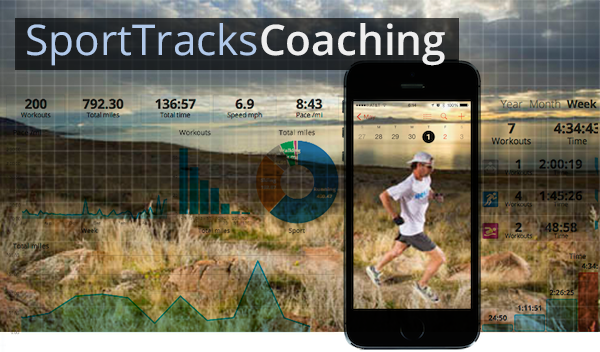 In this post we're going to go through the basic features to coach an athlete on the SportTracks platform.
Step 1: Create your coach profile
To get started with coaching go to your "My account" page by clicking your profile image in the upper right.
On the "Profile" tab, click the "Enable coaching features" button in the Coaching Details section.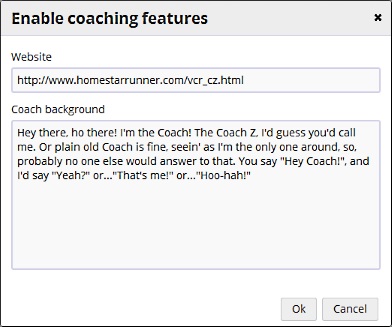 (Optional) Enter your website. If you don't have one don't worry - we will create one for you on sporttracks.mobi.
 
Enter your coach background. You'll need to enter at least 140 characters to enable the coaching features.
After you've enabled coaching you can continue to fill out the services you offer and disciplines you specialize in. Make sure to attach a profile image and enter your location so athletes can find you.
Step 2: Connect to your athletes
Switch to the "Connections" tab and click the "Find Connections" button.
Click the blue "Send invites" button.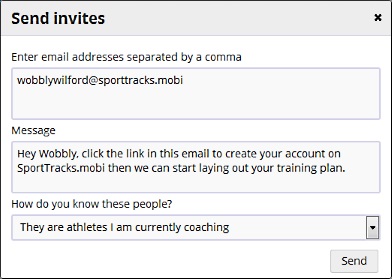 Enter your athletes emails.
 
(Optional) Customize the invite message.
 
Click "Send" to send the invites.
Once your athletes have signed up you'll be notified that they are connected to you.
Step 3: View your athlete's data
To view your athlete's data open the menu under "My Account" and click the "My athletes" menu item.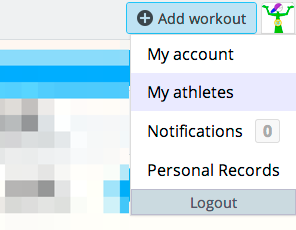 Find the athlete you're interested and click the profile link to go to their calendar.

While you're viewing an athlete's data you can quickly access their data views by clicking the buttons in the user banner at the right side. From the profile page you can also view and edit the training settings for your athlete to set up min/max heartrate or training zones.
Step 4: Plan some workouts
From your athlete's calendar view click the calendar navigation button to go to today. Click the day box to create a planned workout on that day. You can also switch to the Month view and add planned workouts for any day after today.
Step 5: Monitor and provide feedback
To monitor performance to plan go to the monthly calendar. Here you will see number of workouts completed or missed per week as well as weekly and monthly distance and time totals by sport. Click a workout icon to jump to the details. You can explore and investigate all the details of your athlete's workout.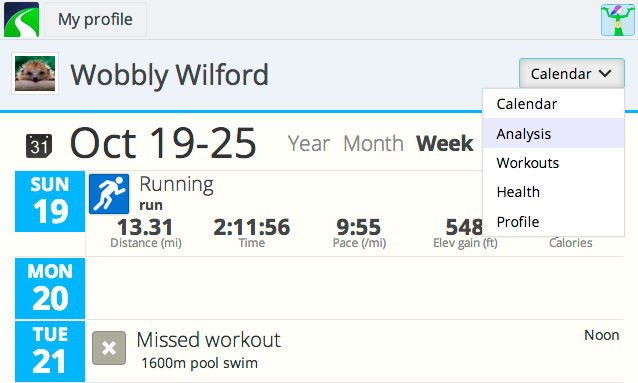 To leave feedback for the athlete, click the comments icon and enter your text. Your athlete will be notified by email of any comments.
The SportTracks platform includes a varity of ways for you to communicate with your clients - direct messages, workout comments, workout notes, planned workout notes, daily notes, and even pre-scheduled notes with a quick-reply. Read our Working With Your Coach article for more information.
Step 6: Sponsor your athletes
Each of your athletes that signs up gets a free 45 day trial to SportTracks. After that time, your coaching account continues to be free, however your athletes will need to have subscriptions to keep tracking their workouts! Coaches have two options:
1. Athlete buys subscription
Just like any other user, your athlete can buy their own subscription which is good for a year. This may be a good option if you're coaching someone casually and not charging them a fee.
2. Coach buys subscription and sponsors athletes
A better alternative for your premium athletes is to buy a "multi-pack" coach license to SportTracks. You can then assign each license to your athletes as you choose. All coach licenses also include a license for yourself. So if you're a coach and athlete, it's a convenient option.
Go to your Account > Subscription page to buy a multi-pack coach license. Once you've completed checkout, you'll also find buttons to assign (or revoke) your purchased licenses to the athletes you want to sponsor.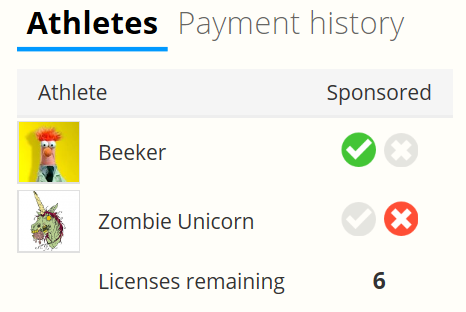 At this point we offer coach licenses starting at 5 athletes and going up to 100. If you're coaching more than 100 athletes let us know so we can give you a special deal.
Questions or feeback? Post below.