Working With Your Coach
Streamlining coach communication and improving accountability
As we've talked to athletes that are using a coach and tracking their fitness data online one issue comes up again and again:
My coach asks me to upload my workout data, but I'm never sure if they look at it.
You're paying your coach a lot of money and you have expectations. How do you know if your coach is meeting those expectations? This week we've added a feature to address this need.
Workout view tracking for coached athletes
If you're connected to a coach in SportTracks and you upload a new workout, you'll notice a new field appear in the notes area of workout details:

This does exactly what you expect. Once your coach views the workout, you'll see the info change:

It's a very simple and unobtrusive feature, but very useful if you're working with a coach. We think athletes are going to like it. And coaches…? Well…. maybe.
Sharing your workout with your coach
We've also improved and streamlined sharing with your coach (or any connection, such as a friend). From the workout details page, click the Share button and select the Connection option:

Select the connection you want to share your workout with. Your coach will be listed first: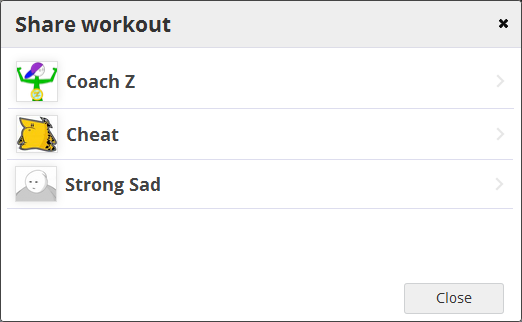 You can optionally enter a message or just click the Share button: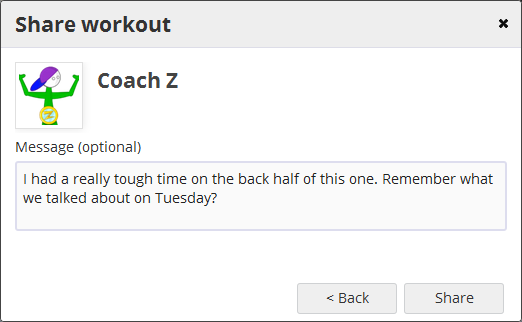 Your coach will be notified via email with your message and a link to the workout they can conveniently click.
Sending a direct message
If you've got a specific question or concern about a workout you just finished using the Share feature is quickest and easiest approach. But there are times you might just have general questions about a training plan your coach has laid out for you, or how to interpret your health training load changes.
The third improvement we made this week is a direct messaging system. With a few clicks you can now message your coach with questions you might have or issues with your schedule. And if you're a coach of course you can also message your athletes. No need to exit out to your mail app while you're laying out a training plan. Select the My connections (or My athletes) link under the user menu at the right side of the page header:

Move your mouse over the message icon and click: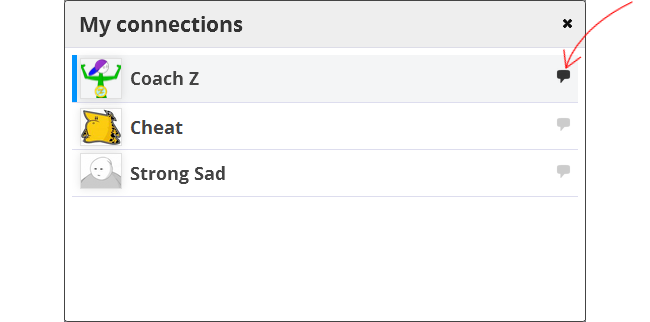 Enter your subject and message and click Send: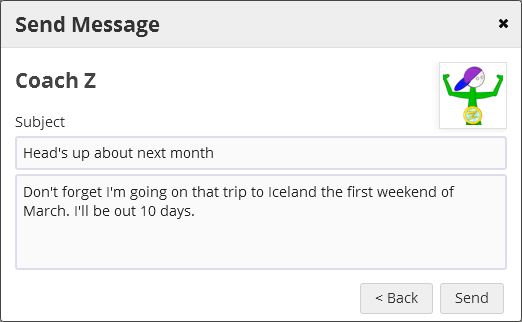 Your connection will receive an email message and in-app notification.
Communicating through daily notes
The final way you can communicate with your connections is through daily notes on your calendar. While the above methods are "immediate", notes can be dropped on future dates and will "trigger" when the date comes up.
For example, if you're an athlete whose being coached, any notes you leave on your calendar will be visible to your coach. This is a great way to inform them of vacations or other restrictions in your training schedule, without sending them a direct message months in advance that might get lost: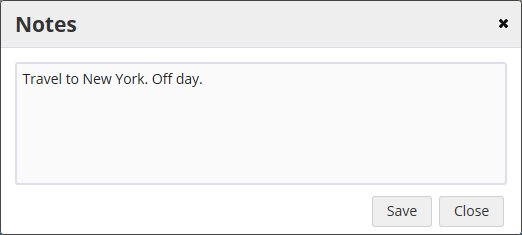 Similarly, a coach can leave pre-prepared notes on their client's calendar which will appear on their dashboard in the 1-week "Upcoming Workouts" section. Below you can see an example where Homestar's coach has left some encouragement and tips the day before his big race:

While a coach can add notes to a planned workouts, these allow the coach to schedule timed messages, which is really useful.
With these new improvements communication between coaches and athletes just got a lot easier.
~Enjoy~