Goal Tracking
Stay on target with easy-to-use goal tracking
Today we are excited to announce our new goal tracking feature. If you want to track progress to your training goals, but aren't committed to filling out a full training plan, goals are a wonderful new tool you can use.
Touring the new goals page
The first thing you will notice is a new top level Goals tab. The goals page is your command center for setting high level goals, tracking current progress, looking at what goals are coming up and reviewing your past accomplishments.
Click the Add goal button to create a new goal.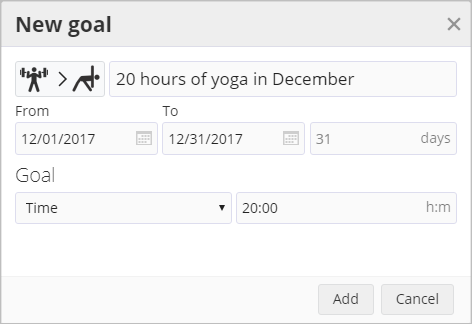 The most important parts of your goal are the start and end date, the goal type and the goal target. If you like you can limit your goal to a specific sport by clicking the sport icon. You can even pick a sub-sport such as a particular type of workout. You may also want to enter a useful name.
There are six different target types you can choose from. All targets are accumulated from the sum total of workouts that match the sport type (if selected) and date range: distance, effort, elevation gain, calories, total time, and number of workouts.
Once you have created a goal for the current time period you can track progress using the goal cards.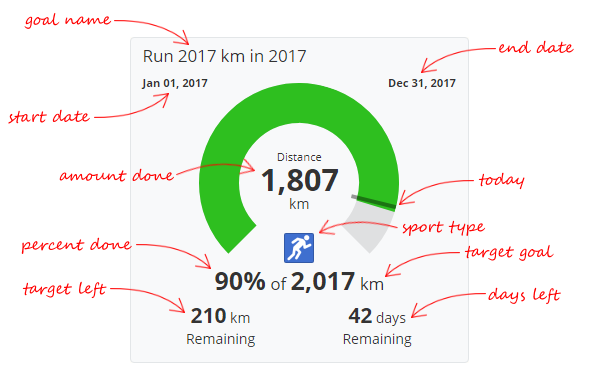 Several tools in the goal card visualization can tell you whether you are on target to achieve the goal by the end of the time period.
At a glance, the color coding system shows you whether a goal is on target (green), nearly on target (blue), or at risk of failure (red). Ideally, all of your goals should be green or blue after the time period has begun, especially by the half-way point.
For short term (week/month) goals, you can compare the target remaining and days remaining numerical values to give you a feel for whether the required training volume is achievable based on what you know about your upcoming schedule.
Compare the "today" indicator line to the goal completed value meter to see how far ahead or behind you are in the target time period.
Future and past goals
Below the current goals section you will see future and past goals listed.

You can review the start/end dates and targets of your future goals to see what is coming up. If you're at the end of your training season, the future goals section can be used for planning next season. If you're in the middle of your season future goals allow you to plan your training schedule.
The past goals section shows you how well you did on your targets. If you see a lot of red here, it means you're setting your goals too high, or something is interfering with your training. If you see green with a lot of targets above 100% you may want to set higher goals in the future.
If you need to edit or remove a goal, simply click the goal card or table row to show a goal detail dialog.
Dashboard integration
Keen observers of SportTracks probably noticed another change this week – your dashboard now has a new section showing current or upcoming goals. If you have one goal active you will see the detailed goal card displayed: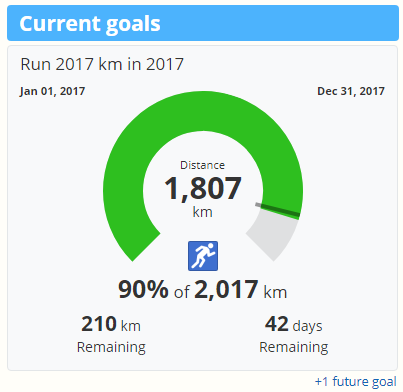 Otherwise you will see a list of current or future goals: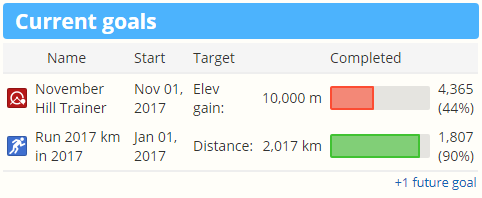 If you've completed a goal recently you will also see a message telling you how you did.

You can also add goals straight from the dashboard.
Calendar and email report integration
We have a few more changes coming up for goals including integration into your planning calendar and email reports. Keep an eye out for future updates and until then… enjoy!