Training Load: Example Charts
All you need to know about reading training load charts
This is part 3 of our series on training load. If you just landed here, please read our other posts first for a background on training load Predicting fitness performance with training load and Training load: Science, history and application.
In this post we're going to turn to some examples so you get a better feel for how training load charts look:
All the examples below include the two training load charts you'll find on the Health tab which we've stacked vertically for readability.
Why constant training leads to diminishing improvement
The first example shows a 16 week training plan with a constant weekly intensity over the entire plan. This plan starts the 1st week of December and has a 1 hour workout of moderate intensity on Monday, Wednesday, Friday: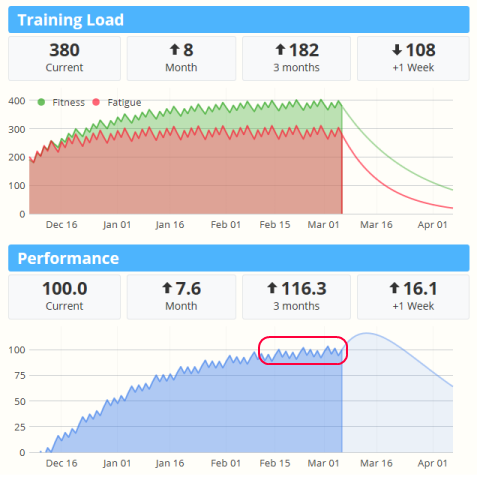 As you can see, fitness and fatigue are closely matched near the first few weeks of the plan, with performance actually in the negative range. As the season proceeds the longer term fitness gains are realized, and the gap between fitness and fatigue quickly increases, resulting in improved performance.
However, by the start of February the performance gains are slowing. Because we are training at a constant rate of 3 hours per week, we've reached the maximum potential performance near a value of 100. To push higher, we're going to need to increase our effort - either through longer duration, or higher intensity.
Increase performance with base building and recovery
The second example starts with the same plan, but after 6 weeks we begin increasing effort by 10% per week for 3 weeks, followed by a week of recovery where we back off. The plan repeats a second time, ending at about 2x times the original weekly effort: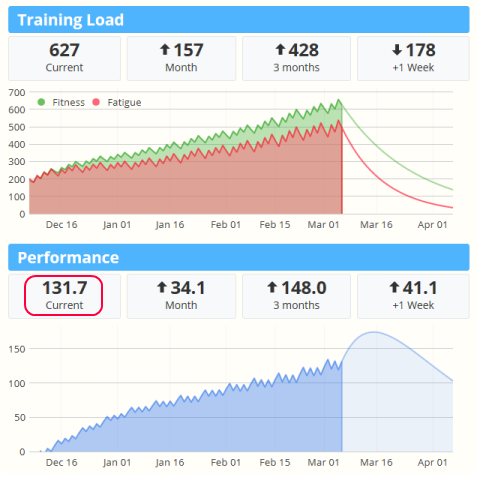 Two things should immediately jump out at you:
1. Instead of a performance plateau, we see a constant trend up.
2. Total performance is a lot higher (over +30%) ending at 132.
This is good. But there are a few more things we can pull out which are more subtle:
3. Fitness is improving, but so is fatigue. We should be mindful of our energy and intensity level as we increase, making sure each workout hits our targets.
4. Each workout has a greater effect as shown by the larger day-to-day spikes. A large spike could warn of an over training injury.
To illustrate the second point, lets look at an extreme hypothetical example.
How to overtrain and injure yourself in one chart
If a 10% weekly increase helps your build performance, why not increase by 20%, or 30%? And screw those recovery weeks, right? Who needs em? This last chart illustrates that scenario: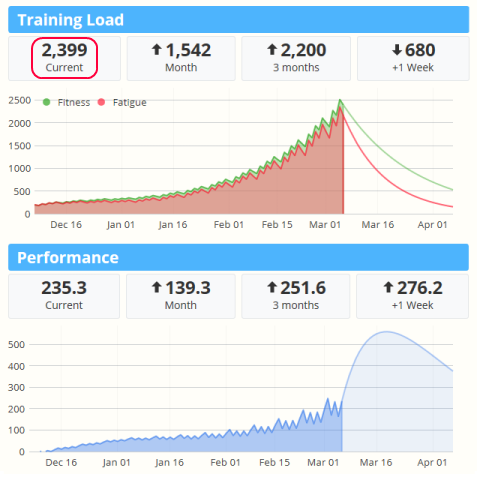 Here we see our performance nearly doubles to 235. However you'll also notice our fatigue has jumped by nearly four fold from around 630 to almost 2,400! And look at how large those daily performance spikes have gotten. While the long term trend is heading up, it's almost as if each day is struggling to push higher. It's no wonder as you can see fitness and fatigue closely tracking together rather than building a gap. This is what over-training looks like in a performance chart.
Putting it together with the taper
The final example shows two one-week tapers and their effect on your predicted performance. In the first example, the last 3 workouts rapidly diminish in intensity going into the weekend: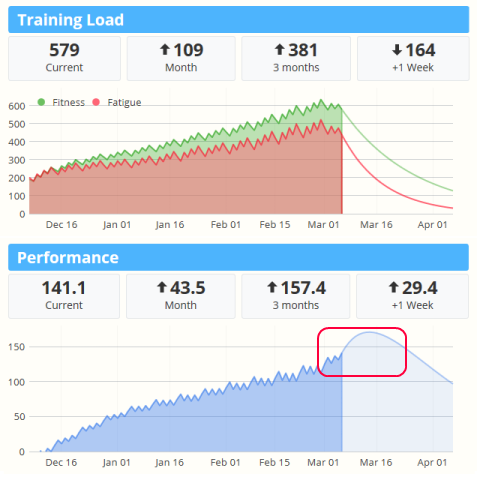 In the second example, we've chosen to simply take a week off before the race: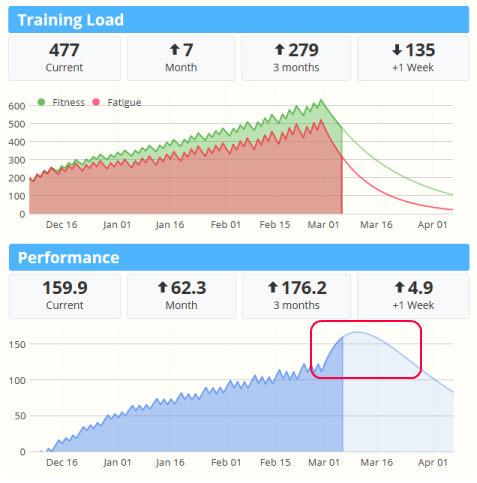 Using what you've learned, notice the difference of these charts in the last week versus the examples above. Compare the two tapers final predicted performance with the fitness and fatigue values.
Keep in mind the training load feature is a model which predicts performance. As with any model it is not 100% accurate so your peak taper timing may vary by a few days. If you look closely at the last two tapers you'll see variation in:
Timing (the day the top of the curve peaks)
Maximal predicted performance (the "height" of the top of the curve)
Duration of peak (the "width" of the curve peak)
In the end, you still need to listen to your body (and your coach).
Any questions or comments on training load? Post below.